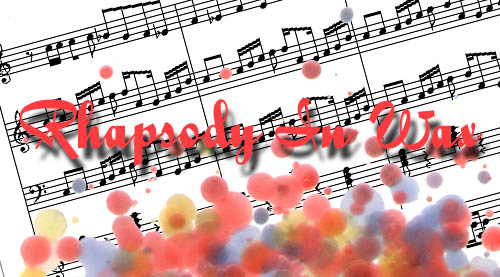 Baby, It's Wax
by Jordan D. White
Wax-work Theme B (Baby, It's Wax) - 06-10-02
I originally concieved this one as a Boyz II Men style A Cappella piece. It was inpired mostly by my memories of "On Bended Knee", to which it makes an allusion. In the end, I went with a "chorus piano" backround. The computer played it for me- a descision I continue to second guess, suspecting that I should have played it myself. Too late, however, for regrets. I'm still quite fond of the results. Very tender.
*Remastered 05-12-08 - I cannot believe how much better this sounds with reverb.
Lyrics:
Baby, I don't know where to begin
Baby, tell me that I am in like Flynn
Baby, when I saw you coming in
Cupid shot me and stabbed me and
Hung me and scalped me and
Kicked me in the shin
Baby, it's wax that you love me
But it wanes when we're apart
Makes me cry like a baby, Baby
And the only tissues I can use are your heart
But there's one thing I can cling to
Shows me where you're coming from
There's just one thing makes me know you love me
That's Wax-work.com
Baby, now it's time for you to see
Baby, I am down on my bended knee
Baby, tell me, will you marry me?
I am asking you, begging you,
Telling you, forcing you,
Till you accept me.
Baby, it's wax that you love me
But it wanes when we're apart
Makes me cry like a baby, Baby
And the only tissues I can use are your heart
But there's one thing I can cling to
Shows me where you're coming from
There's just one thing makes me know you love me
That's Wax-work.com
Back to Rhapsody In Wax