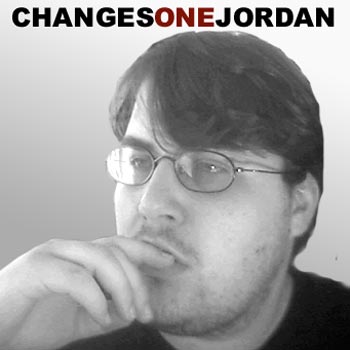 Jordan D. White Bio:
Tell us about yourself.
My name is Jordan D. White. I live in Forest Hills, New York with my lovely wife, Devon, and our two cats, Scape and Boo. I work as an assistant editor at Marvel Comics, a job I really love. I'm originally from Connecticut. I went to college in Binghamton, NY, where I lived for ten years, and got three degrees. Two were in Creative Writing. I love to be creative. I love creating. I write, make comics, and do music.
I started this website as a way to get myself and my friends to keep doing creative things after graduating from college. When I got into grad school, the site's regular schedule became disrupted, and it became too difficult to wrangle the other contributors. In the hopes of getting back on the creative horse, I redesigned the site as just a place for the projects I work on alone or in collaboration. When I began at WHRW Binghamton, the site became the home of my radio serials. Now, it is going to house the wax-work podcast, Cast in Wax.
What are you currently working on?
I'm doing the aforementioned podcast, and working. Work is a lot of my time, to be honest, but since it's working on comic books, I don't mind.
What's your favourite comic book?
Definitely the Savage Dragon. Erik Larsen's art and writing are both top notch. The way he can weave a story over a long time... it's amazing. That comic is one of the biggest reasons I wanted to try serial writing. I do read about a million other comics a month, though.
What's your favourite movie?
Of all time? The Rocky Horror Picture Show. Why? Aw, geeze... it's not because of the spectacle of seeing the show in the theatre, it's because of the film itself. I am one of the people who really likes watching it. Not that I don't enjoy the shouting and such, too, but I think there is more to it than that. It has a lot to do with the journey of the audience watching the film. I think that is where one of the most incredible parts of the film lies, and it's what makes the film lend itself so well to repeat viewings. Maybe someday I'll write an essay about it for the site. I was in a Rocky Cast, the Vestal Violators, for about 10 years or so with my wife and a number of my friends. I also like Brazil, Fight Club, Heavenly Creatures, The Forbidden Zone, and tons of Horror movies, like the Nightmare on Elm St. series, the Evil Dead series, Re-Animator, Suspiria... the list goes on and on.
What's your favourite music?
I like a lot of music, too. I guess I'd say my favourite things to listen to are They Might Be Giants, Ween, Elvis Costello, Stew, and Ben Folds. I make lots of mix CDs, though, with lots of different artists on them.
What's your favourite TV show?
Current shows? Battlestar Galactica, Doctor Who, 24, House, Lost, Dexter, and Bullshit!. On DVD I love Firefly, Mr. Show, The Prisoner, X-files, Buffy, Angel, Wonderfalls, Oz, Veronica Mars... and lots more. TV show DVDs are so wonderful.
How can we contact you?
You can e-mail me. My address is "cracksh0t@aol.com". That's also my AIM name. It is important to note, however, that the '0' is a zero, not the letter 'oh'.