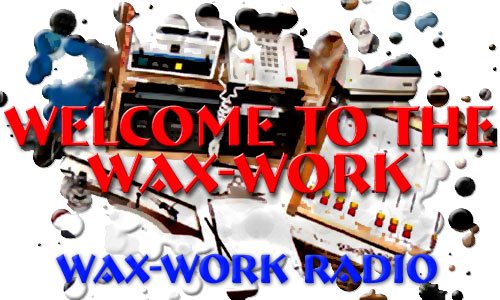 By Jordan D. White
For three years, I took wax-work onto the radio at WHRW Binghamton, the campus radio station at Binghamton University. My program was called "Welcome to the Wax-Work," and we did a number of wax-related things- most prominently, we created a number of original radio serials and comedy series. It was a wonderful time, and I am immensely proud of the result.
Archives:

Debatitorium - Created By Jordan D. White
Frank Allen hosts this tournament-style debate series which takes the hot-button issues of today, and hashes them out, with skilled debators on both sides, and experts to chime in with their expert information. Mp3s of the entire series.

Decker & Hayes - Created By Jordan D. White
An original radio serial about a pair of lesbian detectives that premiered on Welcome to the Wax-Work. Stella Decker & Macy Hayes are the best dicks in Parlortown, but in a city of crime, what good can be done? Who needs a diamond when things are this rough? Mp3s of the entire series.

Epic Echoes - Created By Jordan D. White
Epic Echoes: the Backwards Series tells the tale of Max Thornfield and the Flashpack, interstellar adventurers and defenders of the planet Earth. The odd part is... it tells the story backwards. Follow the 'pack back to the beginning of their tale, as they "un"beat all the threats to the planet! Mp3s of the entire series.

Frank Allen Interviews - Created By Jordan D. White
Exposing the truths his interviewees are sometimes uncomfortable to admit, Frank Allen Interviews is as hard hitting an interview as is humanly possible without actually phycially hitting someone hard. Mp3s of the entire series.
Guard Duty - By Jordan D. White
The Earth Guard - the planet's most powerful heroes united. From the Guard Tower, they watch over the citizens and spring into action at any sign of danger. To that end, the Guard take shifts monitoring events all over the globe. Sooner or later, they all have to take a shift of… Guard Duty. An ongoing radio serial about heroes... waiting. Mp3s of the entire series.

Like Mother, Like Daughter- Created By Jordan D. White
Pandora Darling was a normal teenaged girl without a care in the world, until she stumbles onto the fact that her mother is a serial killer. Hope Darling swears that she only kills people who deserve it, members of a grand conspiracy out to destroy our nation. Can Pandora find the truth, before she gets drawn into her mother's twisted world? Original radio serial. Mp3s of the entire series.

The Perfectly Normal Band Radio Recordings- Jordan D. White & Mike "Michael" Makowski
The Perfectly Normal Band went on WHRW Binghamton for a stint and recorded these tracks live on the air. Fun accoustic covers (of some interesting choices) peppered with select originals from the PNB's ouvre.

Saint Red - By Jordan D. White
Red Cain did not have much of a life to speak of until made a Saint by the mysterious Christian Corporation DI&R. Despite Red's best efforts, he can never go back to a boring life again. Serial Fiction, funny, serious, who knows. Mostly funny. Mp3s of the 2 complete radio series.

Scapie Stores, From a Cat in the Dark - Created By Jordan D. White
The concept is simple: Scape believe he is a master storyteller, so after hearing a scary story from his father, he uses all his storytelling wiles to retell it to a special guest listener. But, as the title implies, Scape does not understand things--he is a cat. His stories are often jumbled, rarely scary, usually hilarious, and never fully in his grasp. Listen as Scapie butchers literary masterpieces for your benefit! Mp3s of the entire series.

This Day in History - Created By Jordan D. White
Rory St. John and company explore each day of the year by looking at an important historical event that occurred on that day. Somehow, they manage to impart important life lessons as well, and all in tiny little 1-2 minute bits that manage to be almost a fun as they are silly. Almost.

Tract or Fiction? - Created By Jordan D. White
Host Frank Allen and company examine the works of Jack T. Chick, examining one tract per episode then debating it's validity. Lots of goofy fun is had and we pretend something has been learned by the end. In reality, it's just all in fun... but what fun it is!

Wax-Work Bonus Tracks
Over the course of our three years, we wound up with a few special tracks that weren't exactly part of the regular series. Here they all are on one page, for your enjoyment.